CAT32HP4Z34 - Caddy 2" Galvanized J-Hook with 4Z34 Clip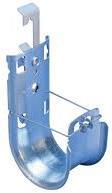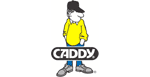 Related Categories
The CADDY CAT32HP4Z34 is a 2" galvanized j-hook that features a built-in 4Z34 clip that is designed to attach the j-hook to drop ceiling wire or a threaded rod. The CAT32HP4Z34 is the ideal solution for managing and routing low voltage cables while suspending them from the ceiling.
The 4Z34 clip or "bat wing" that is attached to this j-hook provides a strong durable connection for suspending low voltage wire and cable from the ceiling. Once the CAT32HP4Z34 is attached to its intended threaded rod or wire hanger it is ready to start supporting low voltage cable runs. The CAT32HP4Z34 has a maximum load capacity of 30 lbs. and complies with all relative NEC and TIA requirements.
Part Number: CAT32HP4Z34
Material: Steel
Spring: Steel
Finish: Pregalvanized CADDY ARMOUR
Diameter: (Ø) 2"
Area: 3.97 in²
Cable Capacity, Cat 5e: 90 Cables
Cable Capacity, Cat 6: 60 Cables
Cable Capacity, Cat 6A: 35 Cables
Rod Size: (RS) 1/4"
Wire Size: #12 – #8
Static Load: (F) 30 lb
Certifications: cULus
Includes: (1) CAT32HP4Z34 2" Galvanized J-Hook with 4Z34 Clip
Quick attachment to threaded rod or wire
Provides optimal support for high-performance data cable, up to and including Cat 5e, Cat 6, Cat 6A, Cat 7 and fibre optic
Provides superior fill capacity and load rating over most other non-continuous cable support alternatives
Rounded edges on J-Hooks provide proper bend radius support for high performance data cables
Cost effective alternative to expensive cable tray
Complies with EN 50174-2
Meets ISO® /IEC 14763-2, TIA 568-C and TIA 569-C
Frequently Asked Questions About Caddy CAT32HP4Z34 - FAQ's
How does the CAT32HP4Z34 attached to a ceiling wire?
The CAT32HP4Z34 uses the 4Z34 multi-function clip to attach to ceiling wire from the top and bottom of the clip. The installation is fast and easy. Once in please the hook will be suspended from the ceiling wire and ready to start filling with cable. Using the 4Z34 is the easiest way to run cables in both a ceiling wire and threaded rod cable support application.
How many cables will the CAT32HP4Z34 J-Hook support?
It will hold 90 Cat5e Cables, 60 Cat 6 Cables, and 35 Cat 6A Cables.
Can I use the j-hooks with multi-function clip on the wall?
No. They are only made for ceiling rod and wire installations. To wall mount a j-hook you will want to use the CAT32HP j-hook which does not have a multi-function clip attached to it. This way you can put the hook flat on the wall and mount it.
What type of certifications does the Caddy CAT32HP4Z34 include?
Caddy is recognized as the world leader of fastening solutions. They have a reputation of ensuring all their products meet the highest standards. The CAT32HP4Z34 complies with EN 50174-2 and meets ISO®/IEC 14763-2, ANSI®/TIA 568 and ANSI®/TIA 569 standards.
---
Related Products