209-2315/DB - 16-2 Outdoor Speaker Wire, 500ft, Black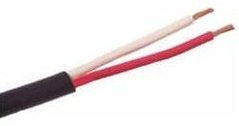 Related Categories
The 209-2315/DB is a 500ft box of Black outdoor rated 16-2 speaker wire. It is designed for use in all outdoor audio applications. It is a 16 gauge 2 conductor wire that is constructed using high quality oxygen free bare copper strands. The 209-2315/DB is both ETL and CL2 rated to ensure all your local building codes are met.
The 209-2315/DB 16-2 outdoor speaker wire features a black weather resistant jacket that will provide protection in direct burial installations or in installations where the cable is exposed to the sun and rain. The "direct burial rated" jacket allows you to install the cable directly in the ground or in a conduit.
16-2 outdoor speaker wire is popular for use in all commercial and residential audio installation where speaker wire is ran outdoors to support the installation of outdoor speakers.
Includes: (1) 16-2 Outdoor Speaker Wire 65 Strand Black 500ft Box
Color: Black
65 Strand Count
Suitable for Direct Burial
Durable Weather Resistant Jacket
High-Strand Oxygen Free
Bare Copper Conductors
ETL Listed, CL2 Rated
500ft Pull Box
Rated Temperature: -20ºC - 75ºC
Rated Voltage: 300V
Jacket Material: PVC
Color of Conductors: Black & Red
Ripcord: Yes
Part#: 209-2315/DB
---
Related Products